Don't we love a good, meaty, and cheesy Philly cheesesteak sandwich? It is one of the delicacies of American cuisine, and we love it so much for so many reasons. It is a perfect combination of vegetables, steak, and cheese that has all of the savory-ness unknown to us. And you already know how much we love to eat steak for lunch and dinner, so Philly cheesesteak ends up high with expectation and top of our list always.
But today, we are not just talking about the good old Philly cheesesteak in a bun, we have a little twist of our own with a few new ingredients, and we are willing to make it super fun making bombs out of it. Yes, it will be an explosion of flavours with the same steak, bell peppers, and cheese, of course.
What we love about making bombs out of the Philly cheesesteak is that we are introducing a crispy surface by wrapping pizza dough around it and basting the balls in a butter parsley mixture. You must be surprised to see how crispy exterior can get with a delicious coating of pizza dough, and the basting makes it extra unique and delicious that you never knew the Philly cheesesteak needed.
Enough with the long intros; let us talk about the recipe now. Again, the recipe is very simple, but for an extra punch of flavour and a little bit more of the fancy side of us, we are using a few ingredients like Spicology Jalapeno Rub and Traeger prime rib rub for maximum flavours with the least effort possible. So why wait? Let us make this Philly Cheesesteak bomb now with the best recipe and a few tips and tricks to make it quick and easy for you. Cheers!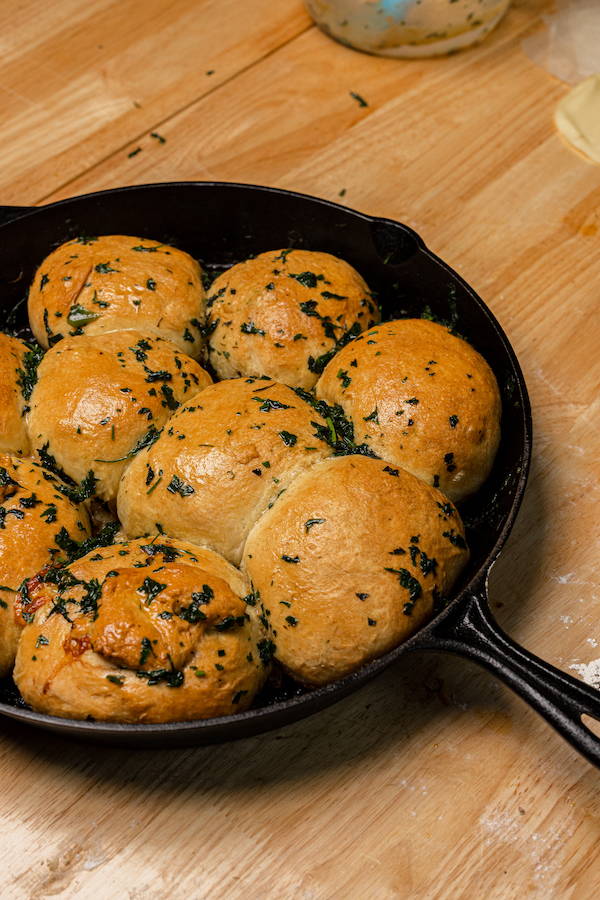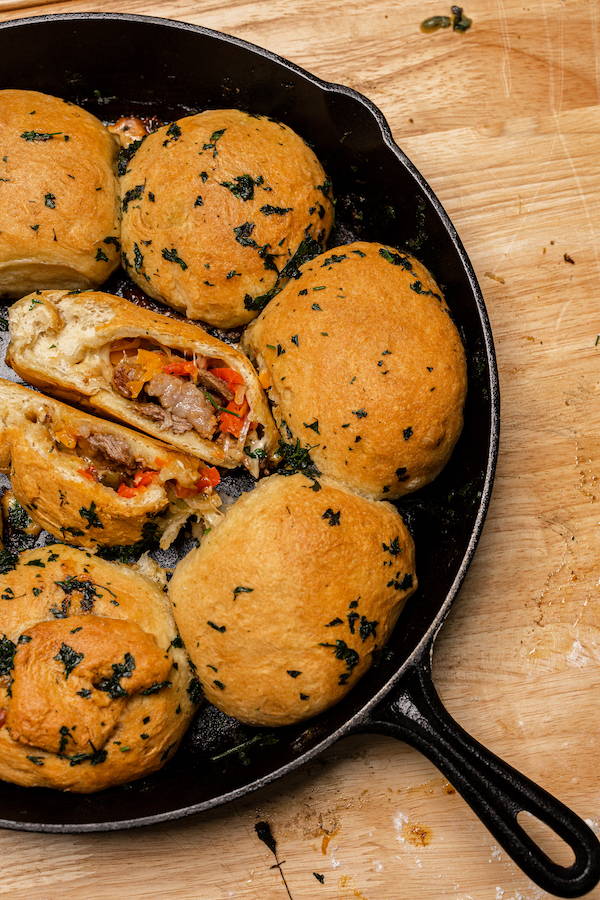 TIPS AND TRICKS FOR MAKING THE PERFECT PHILLY CHEESESTEAK BOMBS

These Philly cheesesteak bombs are no doubt so delicious, but they can be time-consuming and a bit tricky, too, especially with the steak batter. But worry not, we have a few things to do and keep an eye on so the recipe works smoother for you, and you can cook them a lot quicker than expected.
• Make sure that the steak you are using is chilled. We are going to cut the steak as thin as possible as the classic Philly cheesesteak is made. Chilling the meat will seize up the meat and give you an easy hand in cutting the thin strips.
• Use the butter at room temperature. We always focus on the consistency of butter because it can save a lot of time in the kitchen and makes perfect dishes too. Whether you can cook in butter or use it to make a dough, room temperature softens butter will not burn or clump. In short, no hustle because of the butter!
• You can always go for store-bought pizza dough if you are a bit lazy like us sometimes. We recommend buying frozen or store-made crust because it can save a lot of time in the kitchen and is perfect for amateur cooks to try different things at first.
• We recommend using a cast-iron skillet for making these bombs. Cast iron is a must to have, and there is a different taste satisfaction and even cooking we get from it. Literally so easy and perfect to have one in the kitchen.
• Dust your hands with flour while making the balls and handling the dough to avoid sticking. We are going to use our hands about such flour will make sure to keep them clean and working fast.
Philly Cheesesteak Bombs: The Recipe

Preparation Time: 20 minutes
Cooking Time: 45 minutes
Total Time: 1 hour and 5 minutes
Servings: 4 - 6
Philly Cheesesteak Bombs
Ingredients
1 ½ pound Ribeye Steak with fat trimmed, chilled, and sliced thinly
1 Medium-sized Red Onion, thinly sliced
1 Small-sized Red pepper, cut thinly in julienne cut
1 Small-sized Yellow pepper, cut thinly in julienne cut
1 Small-sized Green Red pepper, cut thinly in julienne cut
1 bunch of fresh parsley, chopped
6 cloves of garlic, minced
8 tbsp Extra Virgin Olive Oil
---
1. Start with preparing the vegetables and the meat according to the preferred Philly cheesesteak cuts.
2. Now place a skillet over the stove and heat it on low heat.
3. Add butter to the skillet and let it melt until foamy.
4. Take a bowl and put in the freshly chopped parsley,
5. Pour the melted butter over the parsley and stir for 3 seconds.
6. Set the bowl of butter parsley basting mixture aside now.
7. Now return to the stove with the same skillet and heat 3 tbsp of oil on medium heat.
8. Add in the thinly cut steak into the skillet and season with a generous amount of Traeger prime rib rub and Spicology Jalapeno Rub.
9. Toss the meat around for even cooking.
10. Once the steak is done cooking, take it out in a bowl and set it aside to rest.
11. In the same skillet, again add 3 tbsp of oil in low heat.
12. Add in the minced garlic and let it sauté until fragrant.
13. Crank up the heat to medium and add vegetables into the garlic.
14. Season the vegetables with a generous amount of Traeger prime rib rub and Spicology Jalapeno Rub and sauté until the vegetables are soft but have a slight bite to them.
15. On a clean counter, place the pizza dough and dust it to avoid sticking.
16. Pinch out about 2 to 2 ½ inches of dough balls and set them aside for filling.
17. Now take one dough ball and stretch it out to flatten.
18. Fill the centre of the dough with meat and vegetables.
19. Place a slice of Provolone cheese in the middle and push the vegetable, meat, and dough around it.
20. Pinch and pleat in the dough like making dumplings to seat the dough with the filling inside.
21. Repeat with all dough balls and make the Philly cheesesteak bombs.
22. Preheat the oven at 375-degree F and prepare a baking tray with parchment.
23. Place the balls over the baking tray and baste them with a butter parsley mixture.
24. Bake them for 15 to 20 minutes until the dough is cooked.
25. Baste the baked balls with butter.
26. Serve immediately and enjoy them hot!