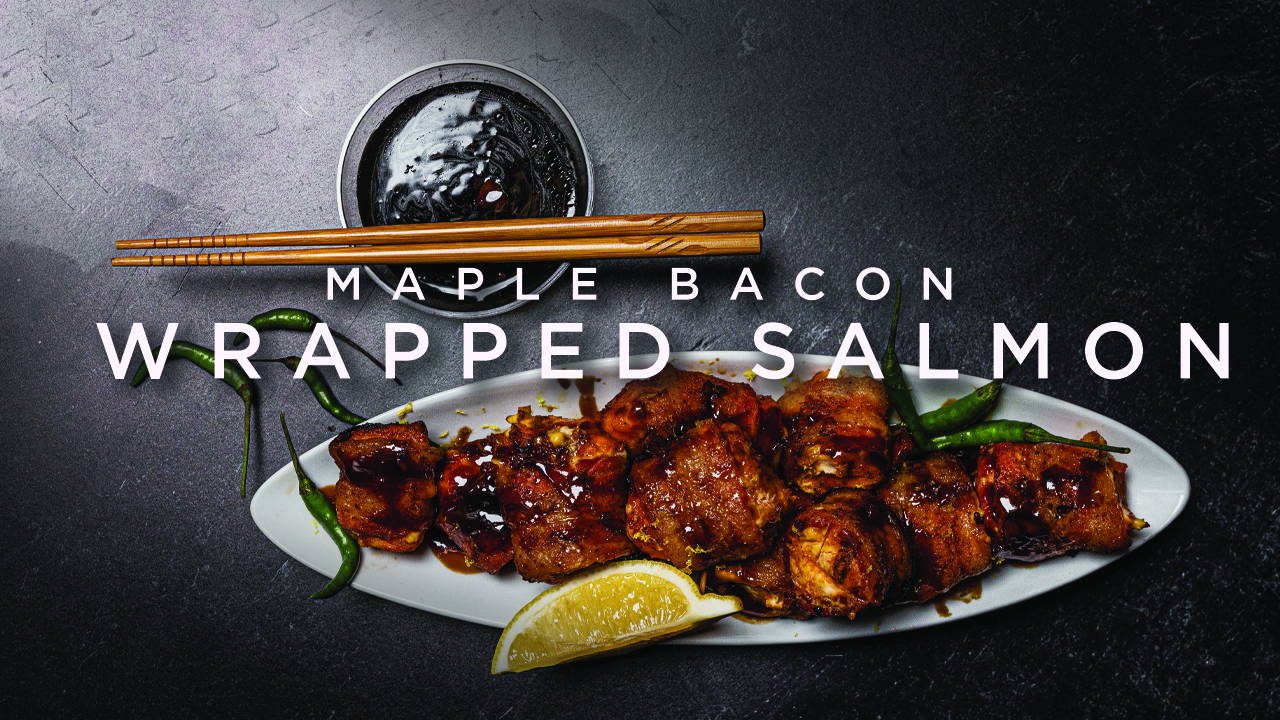 Maple Bacon Wrapped Salmon is one of the unique dishes we have ever come across. We already know how bacon can make everything taste so good and delicious, but there is something satisfying about this dish. The bacon wrapped around a beautiful bite of salmon and topped with a sensational maple-infused Teriyaki sauce has a different mouthfeel and burst of bold flavors. At the same time, the salmon has always been a delicate fish with different yet bold flavors of its own too.
For us, this recipe is perfect for summertime since we are grilling the bacon-wrapped salmon bites. Even if you don't, you can bake these bites up and still gets that mouthwatering smokiness not just in smell but also in taste as well. Well, now that is a secret that you will be willing to know.
Worry not; this article will wrap the bacon with bacon while we unwrap how this dish will taste and how to make them into pure bliss. And here is a caught, we are making our own Teriyaki sauce that is 100 times better than the store-bought one. Once you have tried this Teriyaki sauce, we assure you that there is no going back!
In short, everything you need to know about this dish is here with a detailed list of ingredients. So, buckle up to get through this flavor town like a pro and surprise everyone with this perfection!
We have divided the dish into two main components; therefore, it is super easy to make and less chaos in the kitchen for new cooks too. The teriyaki sauce: It is more like the foundation of the flavors. We are not really seasoning the fish and bacon with any sweet and savory flavors on its own; therefore, the teriyaki sauce plays an important role in making the dish complete. Salmon and bacon: We are preparing a one bite salmon and bacon morsal which is cooked with no more than three seasonings. The dish is just perfect for any tea party, friends gathering, and to impress anyone literally!
Flavor-wise, the dish is a perfect combination of sweet, tangy, savory, and surprisingly smoky too. The deep notes of sweetness and tanginess come from Teriyaki sauce. The main ingredients here are orange juice with a combination of rice vinegar and sugar.
Now let us talk about salmon and bacon. We all know bacon is always so good on its own, and salmon is one of the most delicate and sophisticated fish that can take on many flavors without losing its own flavor and flakiness. Indeed, a unique blend of flavor that will make your mouth salivates for more.
HOW CAN I SERVE THE DISH?

You can serve a dish like a canape so that everyone can enjoy them in one small bite at a time. But creativity does not end here! You can make a full course meal out of the idea and serve it with so many things. Here are a few serving ideas we absolutely love:
• Serve it with Rice, more like a poke bowl.
• Have the half fillets of salmon wrapped with bacon and serve with roasted vegetables.
• Salmon bacon-wrapped steaks with salad on the side are perfect for summertime lunch.
• Make sushi out of it, no offense to original sushi, but it is a fun way to engage your guest or family into a fun dinner-making activity. The guest will love the interaction food idea and will have lots of fun deciding on their favorite flavor pairings.
CAN I MAKE THESE AHEAD OF TIME?

Of course, you can make a few components of the dish ahead. As we talked about, there are two components of the dish, teriyaki sauce, and bacon-wrapped salmon.
You can always make the Teriyaki Sauce, and we highly recommend doing that since it is so tasty and can be used in so many marinades and stir-fries. Honestly, nothing is more satisfying and delicious than a homemade Teriyaki sauce. But always store the sauce in a sterilized mason jar and avoid scooping it with the wet spoon.
If you are hosting a huge party or get-to-gather, then you can easily make the bacon and salmon morsels ahead of time. Consider making the bites in the morning and then baking or grilling them just in time when the guests start to arrive. Do keep in mind that baking or grilling will take 30 to 40 minutes, so plan to make these accordingly and just dress them with Teriyaki sauce just before serving.
Maple Bacon Wrapped Salmon: The Recipe

Preparation Time: 15 minutes
Cooking Time: 45 minutes
Total Time: 1 hour
Servings: 4
Terriaki Sauce
Ingredients
2 Tablespoons Corn Starch
---
1. Add soy sauce, fresh-squeezed orange juice, 1/4 cup water, brown sugar, rice vinegar, minced garlic, and minced ginger to a saucepan.
2. Heat over medium for around 5 minutes, until brown sugar dissolves
3. Add the slurry to the sauce, and continue to cook an additional 3 - 5 minutes, whisking or often stirring, until thick
4. Use this teriyaki sauce for marinades or any stir fry recipe!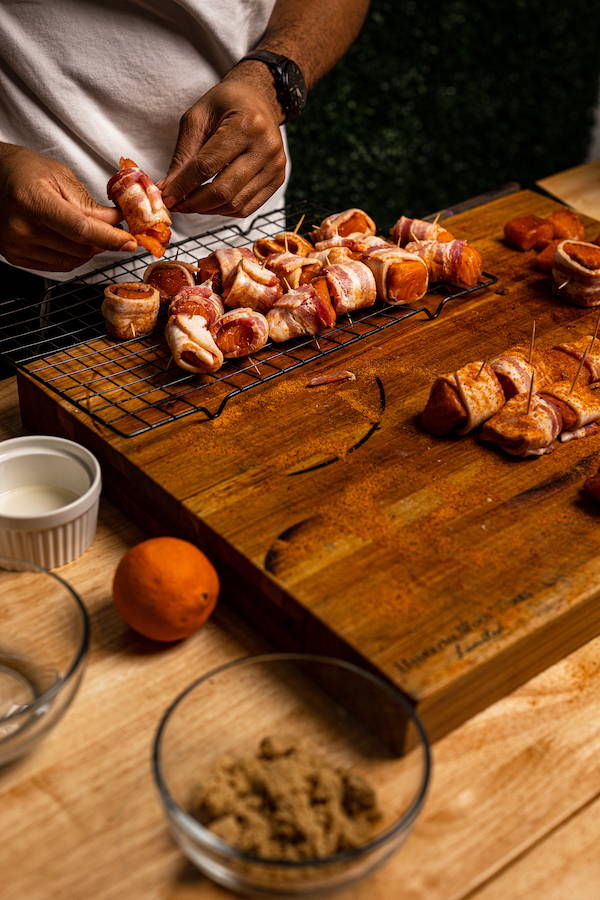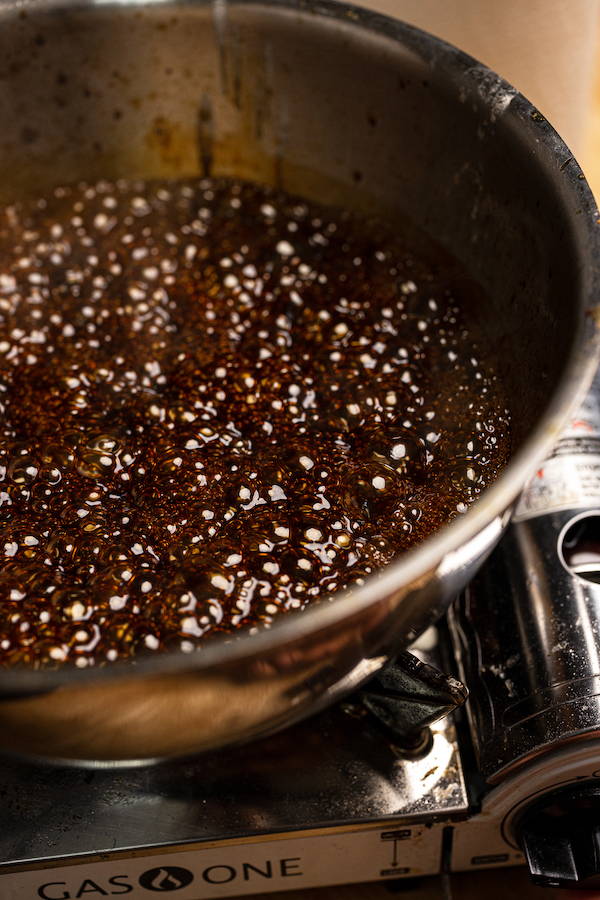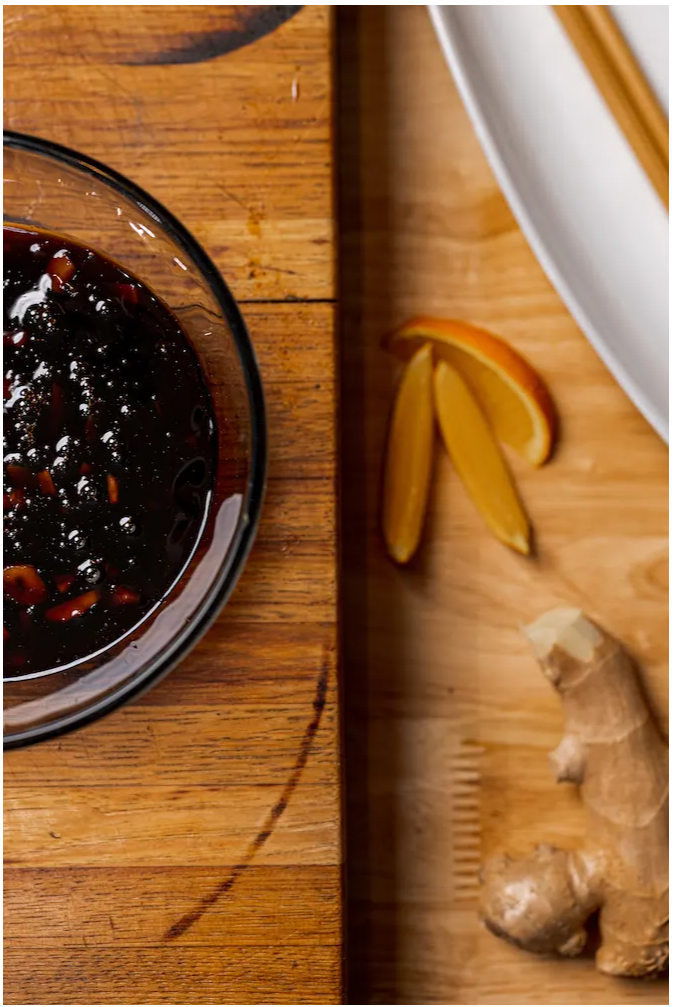 Salmon & Bacon
Ingredients
1 Pack of Maple Thickcut Bacon
Kinders Woodfire Seasoning
---
1. Peel skin dark to light flip filet takes it slice skin flip it poke it and pull it.
2. Cut the salmon into 1 inch thick cubes.
3. Season liberally - holy voodoo and kinders maple seasoning.
4. Layout bacon, roll up salmon and cut when wrapped one full rotation, and continue on with the next slice of salmon.
5. Sprinkle with wood fire garlic on top and toothpick.
6. Place on a bake grate with toothpicks facing down the grate hole.
7. Grill on Traeger or just bake for 300 degrees F for 25 to 35 minutes.
8. Drizzle teriyaki and top with lemon.
9. Serve hot and Enjoy!